Jay Pritzker Pavilion Seating Chart
Located in the beating heart of Chicago, the Jay Pritzker Pavilion sits on the beautiful Millennium Park. Incredible views of the surrounding city and a state of the art design offering a truly unique setting. Seating is divided into two main sections. Illustrated in the chart below, the to section are split. The lawn is located at the rear of the venue for those who like a more chilled out seating arrangement. towards the stage further seating options are available with fixed seating. A pit is located directly in front of the stage.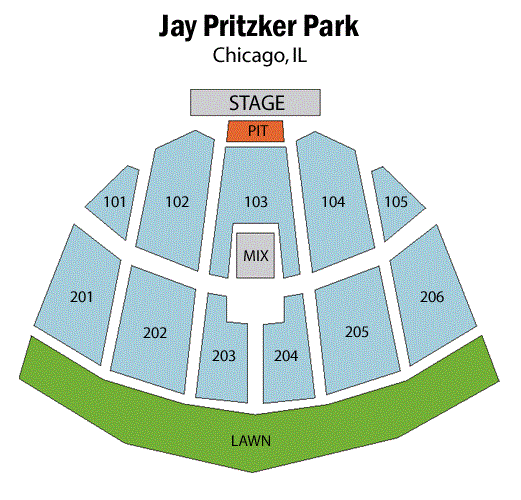 Seating Capacity
Jay Pritzker Pavilion is a massive venue with room for 11,000 guests across multiple seating sections. 4,000 of those seats are in fixed seating across 2 rows of 5 seating sections. And the lawn has space for 7,000 guests spread out across the lawn. Capacity limits are strictly followed, so the venue will close once the seating is full, so guests are advised to arrive early, especially if you want the best seating on the lawn.
Best Seats
Generally speaking, the best seats are in seating section 103 or 202-205 as they offer the most direct view of the stage, though the performance space across the entire venue is visible from all reserved seating and from all spots on the lawn. Lawn seating is general admission first come first serve, so be sure to arrive early.
Accessible Seating
Accessible seating & companion spaces are available throughout the seating bowl of the Jay Pritzker Pavilion on a first come first served basis. Seats may be released as general seating once the performance starts.
If assistance finding a seat is needed, please stop by the Patron Services tent on the West walkway of the Jay Pritzker Pavilion, and ask a for a Front of House staff member, or approach ushers in light blue shirts stationed around the seating area. The distance from the security check points to the seating bowl ranges from 395-575 feet.
Seats near the American Sign Language (ASL) interpreter on the Jay Pritzker Pavilion Main Stage are located audience right.
Some aisle seats have movable armrests, to allow for easy transferring onto the seat. Wheelchair accessible seating is also available around the perimeter of the seating bowl
There are places to sit and rest throughout the park.
Gates Open
Security gates open at 3pm for the Summer Film Series during the Grant Park Music Festival season, security gates open 90 minutes before all other event start times. The Parks event footprint will be closed to the public for 1 hour before the gates open.